"Quick-Fix" for your hunting abstinences .. enjoy the "hunting fever" here and now for small money.
New streaming service with action-packed hunting movies
25% discount or 7 days free trial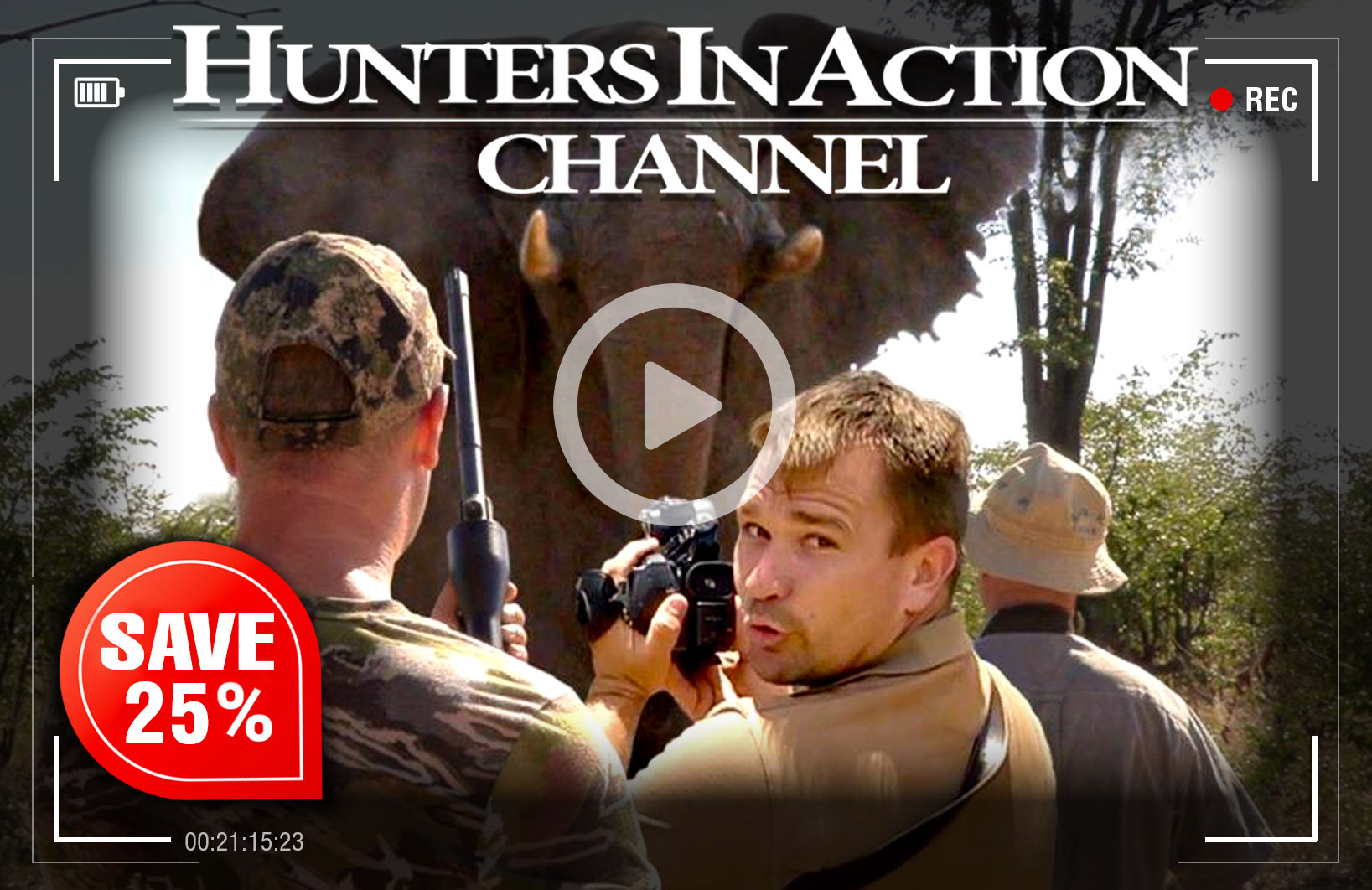 Save 25% introductory discount or 7 day free trial on subscription –
limited time only
A brand new streaming service with action-packed hunting movies has been launched. The service is called "Hunters in Action Channel" and was founded by Norbert Fenyvesi, who is both a photographer and a professional hunter.
Norbert specializes in "hosted" hunting trips, where he accompanies and guides hunters all over the globe. Over the past 15 years, the many hunting trips have been filmed, and continuously edited and spoken. These are "action-saturated" edits with intense hunting situations at a high pace.There are NO annoying commercials, no cooking, no fishing – only HUNTING ACTION, and you get the opportunity to see many hunting situations from several angles and sometimes with extreme "close-up" scenes.
More than 70 movies on 60+ game species in 20+ countries.
Hunters in Action Channel currently has over 70 movies on more than 60 game species from more than 20 different countries on the program. You can experience hunting situations ranging from the rare black rhino in the bush, over the beautiful Bongo in the rainforest and Marco Poloen in the Tian Shan mountains to the common roe deer in the agriculture landscape where you get valuable information about both the hunt, the ways of hunting and the habits of the animal in the different seasons.
23 new movies on the way
With Norberts Fenyvesi's more than 200 travel days each year, you can expect continuously new exciting film content on this channel. Right now, 23 new movies are being edited.
Only 3,93 EURO per month for unlimited streaming
Hunters In Action Channel is a streaming service where you for only 7 Euro per month gets unlimited access to all movies on the channel. You can also take out an annual subscription, which gives an saving of 25%. A full year of unlimited access thus costs 63 Eur. However, it can get even cheaper.
For a limited time you can get additional 25% discount. When entering the discount code SAVE-25-HIA, an additional 25% discount is deducted at check-out. With the discount code, the price is thus only 47.25 Euro for unlimited streaming for 12 months (only 3,93 EURO per month) – and then you can watch all movies as many times as you want.  Membership can be canceled at any time.
Choose between 25% discount or 7 days free trial
With the 7 days free trial membership this means that you only pay your subscription after the 7 day trial period expires. If you are not satisfied, you may cancel your membership free of charge before the end of the trial period. If you choose the 25% discount membership you will NOT get the 7 day trial with this option. The discounted amount will be deducted on sign-up.
You will find more information about Hunters in Action Channel as well as the registration option right here: https://www.huntersinaction.tv. Remember to enter the discount code SAVE-25-HIA when ordering an annual subscription. Note that the offer is valid for a limited time, which is why it pays to strike immediately.
Check out the 70+ movies and sign up with discount code SAVE-40-HIA