Directors
Biographical
Remove any notion of traditional outdoor TV and welcome to Pursue The Wild. From the backcountry to the gun range, Host, Kristy Titus is educating viewers while inspiring movements that broaden the reach of conservation and strengthen support of our Second Amendment. As a member of Team Ruger, she is an NRA instructor, competitive shooter, and mentor to other hunters, Titus is presenting the journey of adventure, conservation and shooting sports.
Kristy was raised leading a pack string of mules into the backcountry of Oregon, experiencing the thrill of public land, do-it-yourself hunting. Kristy is passionate in the support of wildlife, habitat, conservation and outdoor education serving as an ambassador for the Rocky Mountain Elk Foundation and Safari Club International.
Welcome to Season 1 of Pursue The Wild, Presented by Ruger.
Episodes:
Missouri Whitetail Hunting with Kristy Titus
Mountain Goat Hunting with Kristy Titus
Montana Elk and Deer Hunting with Kristy Titus
Deer Hunting in Nebraska with Kristy Titus
Steelhead Fishing in Idaho with Kristy Titus
Out Of The Cage with Gladiators Unleashed
Burning Down The Long Range Course At FTW Ranch in Texas
Moose Hunting with Kristy Titus
Colorado Late Season Elk Hunting with Kristy Titus
Giant B Run Steelhead of the Clearwater River with Kristy Titus
Caribou Hunting in British Columbia with Kristy Titus
Utah Elk Hunting with Kristy Titus
Wyoming Spot & Stalk Antelope Hunt with Kristy Titus
Deep Sea Fishing Oregon with Kristy Titus
Overcome Train To Hunt with Kristy Titus
Oregon Archery Turkey Hunting with Kristy Titus & Rick Carone
Oregon Archery Turkey Hunt Success with Kristy Titus
Oregon Elk Hunting with Kristy Titus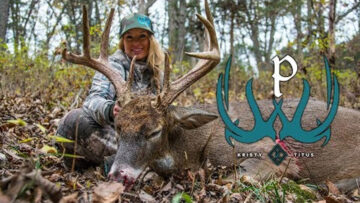 Moments Missouri Whitetail Hunt As the leaves change in the Midwest and bold colors of fall paint the forest, we know it's coming....